What's New from LBC - Fall 2013
Submitted by

lbc

on Tue, 09/24/2013 - 01:57
Perhaps the biggest news for LBC this quarter is that we are traveling around most of the US over the next month. We will be bringing a large pile of books and a presentation for your entertainment. The updated schedule is here, with the tour beginning to Los Angeles this weekend and ending in Oakland just in time for the East Bay anarchist book and conversation event.
Here is the schedule of stops as of today (09/23/2013)
September 29th LA CA – The Public School
September 30th Flagstaff AZ – Táala Hooghan Infoshop
October 1st Durango CO – Fort Lewis College
October 2nd Denver CO (?)
October 3rd Minneapolis MN – Minnehaha Free Space
October 4th Milwaukee WI – Center Street Free Space
October 5th Chicago IL
October 8th Grand Rapids MI – https://www.facebook.com/events/615166618535436/
October 10th Bloomington IN - Boxcar books
October 11th St Louis MO
October 11rd Kansas City KS
October 16th Austin TX – at Monkeywrench books
October 19th-20th New Orleans LA - http://www.nolaanarchistbookfair.org/
October 21st Houston TX
October 22nd Tucson AZ
October 23rd Phoenix AZ
October 26th Oakland CA - EBAB
Recent LBC Books Titles
The Master's Tools – by tom nomad
warfare and insurgent possibility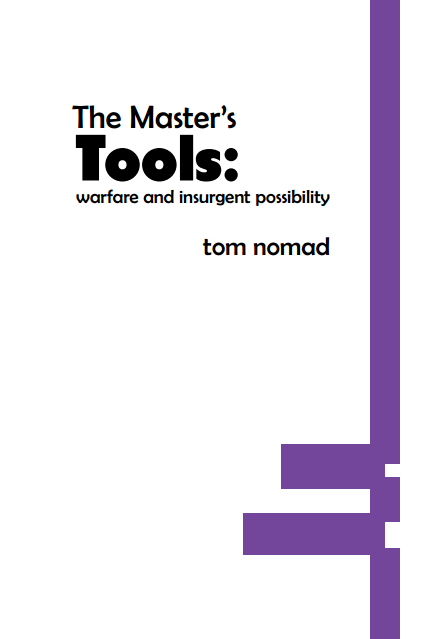 Tactical dynamics are amoral, arational, particular dynamics of conflict, and effectiveness is the accomplishment of objectives within this dynamic of profound uncertainty and resistance. Fusing ideas and action together is always already impossible: analysis generates a space that becomes inert while tactical dynamics are always in flux in all moments, making both strategy and tactics impossible to think in direct and total ways. The most we can do is try to make sense of these dynamics in increasingly effective ways, ways that facilitate the achievement of material objectives.
The Cultural Logic of Insurrection – by Alden Wood
Essays on Tiqqun and the Invisible Committee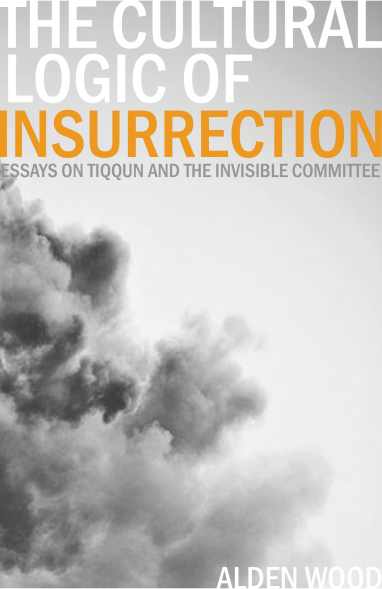 Tiqqun and The Invisible Committee, while clearly informed by academic discourses (such as traditional metaphysics, theories of sovereignty, the study of biopolitics and disciplinary practices, etc), are staunchly defiant of the academy's monopoly over political thought. They are at once an appropriation, recontextualization, and a liberation of certain theoretical concepts from the
tautological trap of academia and their subsequent projection into the world. In this way, Tiqqun and The Invisible Committee represent a critical synthesis of theoretical spaces as disparate and diverse as anarchist thought, Italian autonomist-Marxism from the 1970s, French ultragauche communism, the squatter's movement in Europe in the 1980s, and the Situationist International. These essays are a dialogue with Tiqqun's logic and their successes (and failures) as a project.
More about The Cultural Logic of Insurrection
Free From Civilization - by Enrico Manicardi
Notes towards a radical critique of the foundations of civilization: domination, culture, fear, economics, and technology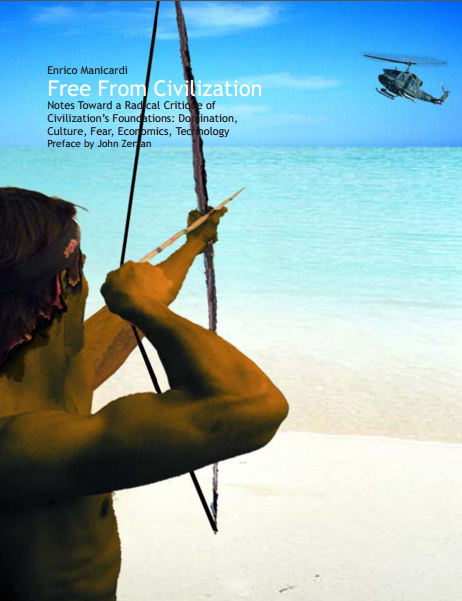 In clear, impassioned prose, Enrico Manicardi analyzes the evils of our age from their genesis. This or that economic, technological, or cultural model is not to blame for our current crisis; the blame lies with economics, technology, and culture as such. It is the ideology of fear that makes us afraid. It is the mentality of domination that jeopardizes all of our relationships. In short, the problem is civilization.
Through its oppressive classes, values, and processes that pervade everyone's life, civilization domesticates us, weakens our perceptiveness, and distances us from the living world. We must radically change our way of thinking, feeling, and behaving before it's too late–we must dam the flood of de-vitalization that is washing over us, and return to our wilder natures, both inside and outside ourselves.
Manicardi's appeal is crystal clear: if we are to survive we must begin to search inside ourselves, not to celebrate the distant past as if it were a cult, but to return to ourselves, to grip life with our own two hands, and build upon that earlier ecocentric conscience which once held the place of the egocentric conscience now leading us astray.
Enrico Manicardi was born in 1966 and is a member of La Scintilla, the Society for Libertarian Culture of Modena. A lawyer and founder of the antiauthoritarian media project "Infection," he has also played guitar and written music for an eponymous band since the 1980s. His lifelong wish has been to live in a free, radically off-kilter, ecologically sound world, one characterized by warm, spontaneous, non-hierarchical relationships rather than those consecrated by the cult of technology. Troubled by the way people have succumbed to a civilization that estranges, domesticates, and regulates everything and everyone, he continues to protest against the modern world's project to enslave us. This book augurs the rise of an increasingly harmonious chorus loud enough to put an end to that project.
More about Free From Civilization
Also new...
Upcoming Titles
Queer Ultraviolence revised – smaller and peppersprayer-er
Huye Hombre Huye is not an exceptional story, it is just a sad story repeated again and again in the Spanish prisons. It is also the humble attempt of an amateur.
In Praise of Demotivation - As we have seen, demotivation can be found in the very heart of this self-devouring system...
New LBC Distribution Titles
"Social" "Networking"
Not that we are into such things... but the outside world exists. They might even be interested in teh anarchies!
Let's help them out (or not). Some of our books are being reviewed and talked about. Join the conversation!
GoodReads
There's this Facebook thing folks are doing and we hang out there sometimes.
Or if short form is more your style, we can accommodate that as well... on occasion.
There are additional blogs happening at the LBC Blog.
Become an accomplice
If you like what LBC is publishing and want to help us continue doing what we do, consider becoming a member or as we like to call it, an Accomplice! You get every title that we publish (over 24 planned for 2013) and help make this project sustainable. Great idea if you live in a group house or work in an Infoshop or just love that new book smell!
Perhaps you would like our titles to grace the shelves your favorite local (to you) bookstore? If so drop us a line.