https://arstechnica.com/tech-policy/2020/06/masked-arsonist-mightve-gott...
She really liked that shirt —
Masked arsonist might've gotten away with it if she hadn't left Etsy review
Woman who burned two police cars IDed by tattoo and Etsy review of her T-shirt.
Jon Brodkin - 6/18/2020, 1:48 PM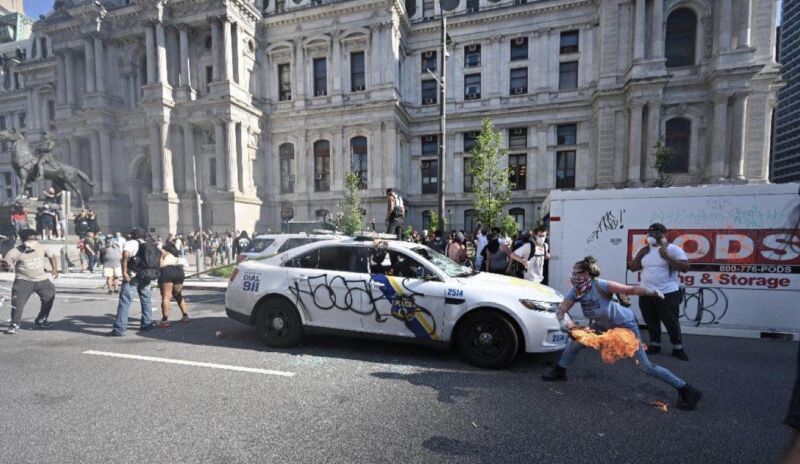 Instagram photo of a masked woman, identified by the FBI as Lore-Elisabeth Blumenthal, on May 30, 2020 in Philadelphia.
To some extent, every Internet user leaves a digital trail. So when a masked arsonist was seen on video setting fire to a police car on the day of a recent protest in Philadelphia, the fact that her face was hidden didn't prevent a Federal Bureau of Investigation agent from tracking down the suspect. The keys ended up being a tattoo and an Etsy review the alleged arsonist had left for a T-shirt she was wearing at the scene of the crime, according to the FBI.
The alleged arsonist—identified by the FBI as Lore-Elisabeth Blumenthal, 33—was wearing a mask, goggles, fire-resistant gloves, and a T-shirt with the slogan "Keep the immigrants, deport the racists" when her crime was captured live on an aerial news feed from a helicopter, FBI Special Agent Joseph Carpenter wrote in an affidavit filed Monday in US District Court for the Eastern District of Pennsylvania. After an investigation, she was arrested and charged with arson of two police vehicles. She appeared in federal court on Tuesday, and the government said it "will be filing a motion for the defendant to be detained pending trial."
In the news video, a police sedan was already "engulfed in flames" when the suspect "entered from the top of the frame and removed a flaming piece of a wooden police barricade from the rear window of the sedan that was already on fire, and then shoved the flaming wood into the SUV that was not on fire. Within minutes of that, the SUV was then completely engulfed in flames." This happened on May 30 after a protest over the death of George Floyd. The affidavit says, "While the protest earlier in the day was peaceful, violence erupted later on in the day," including the arson of police cars.
More footage of the arson came in a video posted on Vimeo that "clearly depicts the same female subject removing a flaming piece of wooden barricade from the marked PPD [Philadelphia Police Dept.] sedan and shoving it through the window of the marked PPD SUV," the affidavit said. An Instagram user had also posted a photo that "shows the female subject moving away from the sedan after it is on fire, and shows her backpack." The owner of the Instagram account provided more photos he had taken to the FBI, and another amateur photographer provided about 500 pictures taken that day in Philadelphia.