From It's Going Down
This May Day was marked by everything form mass wildcat strikes by teachers across South Carolina, demonstrations against ICE in Portland, a noise demo outside of a jail in New York, student occupations and walkouts in Baltimore, New York, and Portland, and also clashes with the far-Right in Portland and New York. Anarchists, wobblies, and autonomous anti-capitalists of many stripes also held benefit events, BBQs, and participated in larger marches across the so-called US.
May Day actions also took place in so-called Canada, where in Montreal, a larger black bloc broke out windows of a design firm behind a migrant detention facility. Militant marches also took place in Mexico and across the world. To see our roundup of anarchist and autonomist actions worldwide, go here.
Pacific Northwest
In Portland, the day began with first a rally in support of Patrick Kimmons who was shot and killed by the Portland Police. Then, over 100 students and community members participated in a school walkout and then joined other demonstrators, marching on the ICE facility to take part in an action in solidarity with #BlocktheWall. Joey Gibson and a small collection of goons was on hand, and police met protesters at the ICE facility, surrounding it. Demonstrators rallied outside of the facility, before then marching back to a park. Later in the afternoon at Cider Riot, a local bar where many antifascists were gathered for a May Day antifascist benefit, Joey Gibson and a collection of Proud Boys, attacked people outside of the establishment but were quickly repelled. At one point, as associated of Joey Gibson attacked one femme from behind with a baton who was then hospitalized. Go here to help them with medical and rental costs.
Rose City Antifa wrote:
Joey Gibson & his violent far-right followers attacked our May Day show at Cider Riot tonight. PPB, staunch enablers of fascist violence, watched the confrontation as Gibson's goons threw bottles, & assaulted working class people with pepper spray & batons.

When PPB approached Cider Riot twenty minutes after Gibson & his goons were repelled, they were not allowed into the establishment, but relayed a message asking whether anyone who had been assaulted wished to give a statement. The whole room erupted in laughter.

Long story short, Joey Gibson & his violent followers were repelled by community self-defense. The attendees of the show treated each others injuries and the May Day show continued in high spirits!

This is a demonstration of our strength as a community. Fascists can't intimidate us, cops don't defend our communities, and any attempt by the far-right to attack working class and community spaces will be repelled.
Southwest
In the bay area of California, mass marchers were held. Members of the ILWU also shut down the port of Oakland for a shift in honor of the holiday.
Clashes broke out in San Diego between rally goers at Chicano Park and several Proud Boys who were denied entrance to the park.
Midwest
In Cleveland, Milwaukee, Colorado Springs, and Chicago, anarchists, Wobblies, and anti-authoritarians all took part in mass May Day marches. In Chicago, a strike was also called by educational staff and in Detroit, groups participated in a rally to demand licenses for undocumented people.
This May Day, we took to the night to capture American flags, sabotage rental bikes, and re-decorate the city in the name of our fallen friend, toor.

May Day has a long history, a history perpetually obscured by the leftist protest marches and sponsored parades. Yet underneath all of this, we know there is an insurgent legacy that still carries on today. May Day is our day to express the joy of living against the prevailing reign of death.

Toor's memory lives on!

We are forever ungovernable!
Southeast
May Day actions pushed city government to drop police from upcoming PRIDE celebrations.
In South Carolina, upwards of 10,000 teachers took part in a massive sickout wildcat strike that stormed the captiol and shut down many schools over wages and conditions.
In Tampa, Florida, a variety of banners were dropped and posters were wheatpasted.
Northeast
For May Day we claim responsibility for the following actions:
-Deflating the tires and painting the windshield of a yuppie housing shuttle bus.
-Throwing paint at the facade of two OCF properties.
-Smashing glass and cutting all non-hydraulic cables of at least four construction machines at the site of a development project intending to manicure a once wild place.
All of our targets are part of the ongoing gentrification of the city.

Solidarity with the comrades in Italy facing repression.

On May Day anarchists aren't sleeping!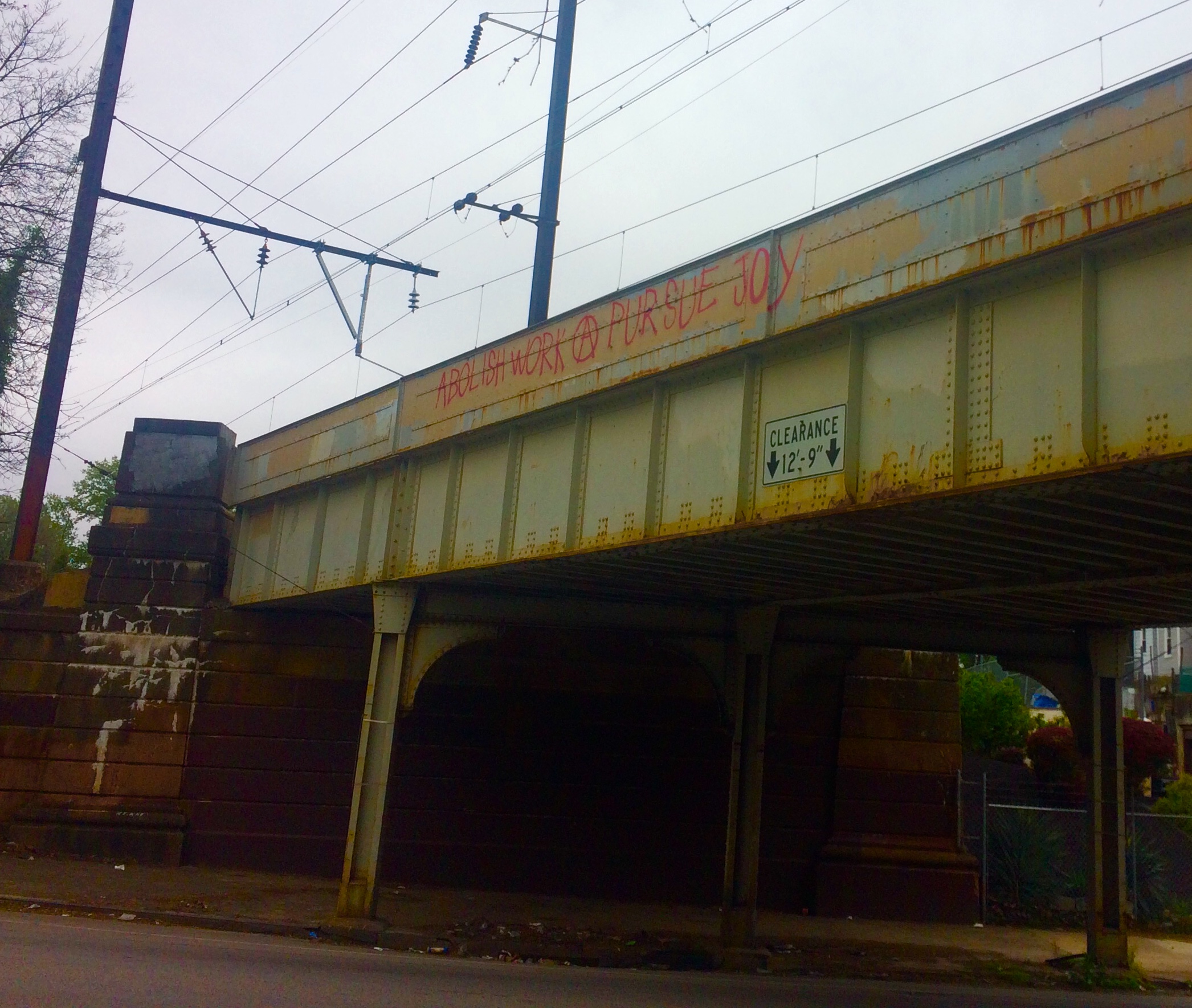 Wobblies and anarchists in Connecticut took part in an immigrant rights rally.
In Baltimore, the student sit-in at John Hopkins University against contracts with private police and ICE continued, with students physically locking themselves down.
In New York, a series of May Day events took place. The Campus Action Network organized a walkout against rising student fees and costs. Anarchists organized a variety of benefits and gatherings, including a noise demonstration outside of a local jail which ended in a black bloc marching through the streets. Neo-Nazi troll, Jovi Val, was also hit with eggs and driven out of public square by several antifascists.
So-Called Canada
In Montreal, a militant march took place where 5 people were arrested and the windows to an architecture firm involved in the building of an migrant detention center were broken out.
So-Called Mexico
Anarchists organized a contingent in a mass march in Oaxaca. Graffiti was written throughout the city.