What's New with LBC - Spring 2015
Posted on:

5 May 2015

By:

aragorn
From Little Black Cart
Now that the NY and Bay Area bookfairs (and BASTARD Conference!!!) are over we have a moment of repose... Until the
Orange County Anarchist Bookfair in two weeks, then we'll be at Montreal a week later!
We are Little Black Cart:
Distribution, Editorial, and print shop.
Even worse... our Facebook account
New Website
After a long period of time we have finally updated our website. It's at Little Black Cart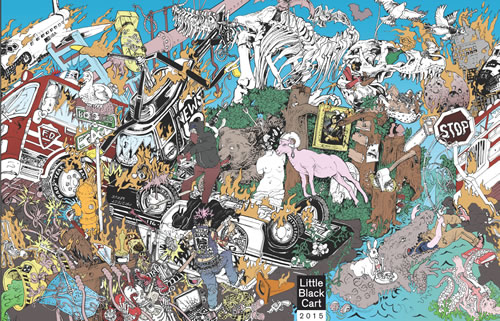 Make sure to also check out our 2015 poster/catalog created by Hunter.
Live the chaos!
Free Publications
For Spring we have released a few free publications for your entertainment...
Black Seed #3 - The third issue of a Green Anarchist publication
The Anvil #5 - The fifth issue of our popular & anarchist culture magazine
LBC Review 2014 - The downloadable version of our annual LBC review
New Journals
Check out
LBC Review 2014 (print version)
The second
LBC Review, offering a selection of excerpts from titles LBC Books has produced over 2014, including Canenero; Disruptive Elements; The Impossible, Patience; Spiritual Journeys of an Anarchist; Anarcho-Pessimism; The Black Bloc Papers; Here... at the Center of a World in Revolt; Huye, Hombre, Huye; The Dictionary of Unhappiness; I saw fire; How to Live Now or Never; and the journals, BASTARD Chronicles 2014; Dangerous Constellations; Insurgencies; Hostis, and the forward to the new edition of Letters of Insurgents.
Other Journals
New Titles
Become an Accomplice
This quarter our accomplices are helping us finance a new cutter and a long cold winter. If you like a vibrant and engaged anarchist press, please consider helping us by becoming an LBC Accomplice!
For $20 / month (domestic, $40 international) you get every new title we publish (over 50 since 2012), 20% off of every Little Black Cart distribution item, and we start you out with a free book or t-shirt of your choosing.
Here is how to learn more about becoming an LBC Accomplice
Upcoming
Upcoming titles includes
Instead of Work by Bob Black; Art as Resistance on the art of the Autonomen movement; A manual for revolutionary leaders of the community (a very special book); the Black Eye collection; The enquête... by Jean-Pierre Voyer, and someday... a Post-Left Reader.